A Bit of Your Time
The latest from Jim Wearne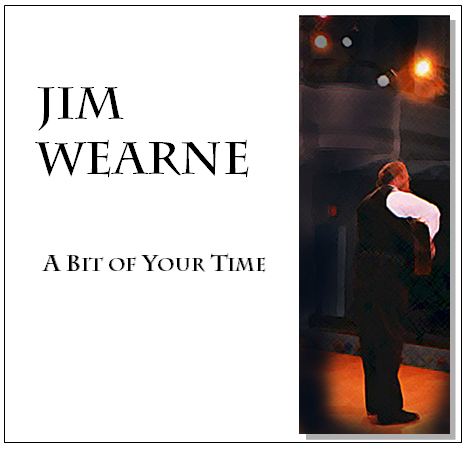 Featuring:

The Cornish Immigrant's Song-

These are old words written by Robert Stephen Hawker, who wrote the words to Trelawney. I couldn't find any tune that had been written for them, so I wrote one myself. If there's a better tune out there, I'm sure someone will let me know. (Narration from The Long Winter Ends by Newton G. Thomas)
The Black Bird-

I once heard this story of how the Chough got its red beak and feet. For the life of me, I can't find it again. If it is something that someone wrote and copyrighted, please consider this a compliment. If you know the source of the story, please let me know.
See the Pretty Englishman-

I was angry when I wrote this. Does it show?
Old Fiddle Dave-

Some time ago I had the great pleasure of meeting Dave Sugarbeet, Helston Boy and wonderful musician. I knew I had to get his electric fiddle on a CD, so I wrote him into this ghost story, along with many other Helston Notables.
Stones and Cattle-

This was written in support of the Save Penwith Moors group. Longhorn cattle are tearing up ancient Cornish sites and destroying irreplaceable monuments. Short of getting out there with a cattle prod, this is the best I can do to shoo them off.
A Bit of Your Time-

The next yahoo that says "Cornwall—that's where the chickens come from, right?" or makes reference to a wall made of corn will regret it. At least if he minds that he made me cry.
Mordarth'res-

If you haven't heard this one yet, I won't spoil the surprise. I suppose it will only be funny once per listener, but that's enough. It's in Cornish.
I've Just Come Back From Cornwall-

A sort of jet-lagged Stream-Of-Consciousness.
Frank Wearne the Fireman-

When in St. Columb Major for the Hurling (I caught the ball—and lived!) I met Sonny Hale, who told me a story about an event down in the clay pits long ago. It involved one Frank Wearne, so I had to enhance it and make a song.
Thanks, Sonny!
As I Am-

The Very Wonderful Heather Dale (Check her out! www.heatherdale.com) let me record this song of hers. Its setting is after Arthur and Gwenevere have met for the first time, at a great State Event with Pomp and Pageantry not to mention Grandeur and lots of Jewelry. He comes to her after all that, dressed plainly and, well, listen to the song.
Emmets-
"Emmets' is Cornish slang for tourists. It means, roughly, "ants."
The Pasty Song-
The late (sadly) Brian Webb wrote this. It is just plain funny, but also a biting take on how Cornishness and things precious to the Cornish are trashed by (guess who?)
A Song in the Wind-

My "Moody Blues" number—hence the mellotron (Thanks, Craig Weatherhill.) A sort of Buddho-Pharmaceutical look at life and stuff and junk.
Order On Line! http://www.cdbaby.com/cd/jimwearne

(Ideal for non-USA orders)
-or-
I'm on many on-line sources so you can purchase individual tracks, or the whole CD.

Just "Google" Jim Wearne
-or-
I'm on iTunes

-or-
Please send a check for $10.00 (U.S.) plus $2.00 shipping and handling per CD.
TO:
MR. BEAR ENTERPRISES
2521 Spring St
#2906
Woodridge IL 60517
U.S.A
Back To Cornish Music Info And Links