This story, a trip diary of sorts, is posted here primarily for friends and family. Anyone else is welcome to read it, but it may contain references to people and things with which they are unfamiliar. It tells of my trip to Looe, Cornwall, via the Queen Mary 2, starting on August 18th, 2008 through September 8th, 2008. The purpose of the trip was to attend and participate in Dehwelans 2008, a Cornish festival. For more info about Dehwelans, try this link. I don't know how long the Dehwelans site will be up, now that the event is over.
Click on the thumbnail pictures to see a larger image, then click your "Back" button to return to the story.
I hope that you enjoy reading this.
---
---
The adventure begins. First leg, fly from Chicago to New York (Brooklyn) to get on the Queen Mary 2 at the Brooklyn Cruise Terminal. I flew the day before the ship sailed, to spend the night before sailing very near the Cruise Terminal. Less chance of missing the boat that way, and the lack of worry was well worth the price of a New York hotel for one night.
For once, no pre-dawn dash to the airport. I flew on American Flight 368, which departs O'Hare at 1:35pm, and arrives at N.Y. - LaGuardia at 4:55pm. Easy. Coral and Cathy drove me to the airport, in moderate traffic and good weather. The forecast had not been ideal, but things were looking mostly sunny. The airport didn't even look crowded!
The advice had been, since I had my boarding pass already (thanks, Internet) to do curbside check in, so Coral let me off near the stand. Only a very short wait there, and, contrary to expectation, no charge for checking the two bags (suitcase and guitar.) One problem, though – the suitcase was 4 pounds overweight. That's a charge of $50.00. I was quite sure at that point that there were at least 4 pounds of things in that suitcase I wouldn't need. Why I didn't off-load some things into my carry-on I'll never understand.
There wasn't even a long line at security. It was the first time I'd traveled with a laptop, and had heard dire warnings of confiscations, but I put it in a bin and all went smoothly. Until they x-rayed my carry-on. When I saw the machine stop, I had a bad moment. When I saw the TSA lady remove my carry-on to a side table I had another. The next fact will mean something shortly. Just before my stuff went through, a new operator had sat down at the security console. A man about my age, with shaggy hair and a grey goatee. I ID'ed him as a fellow-Folkie.
The TSA lady reached into my carryon and pulled out a plastic bag. I had figured, when packing, that I wouldn't pack some of my musical gear in with the guitar in case the guitar got lost. I had put that stuff in a plastic bag in my carryon. She showed the bag to the guy at the console and he examined it. She pointed at me. He said to her: "That's a banjo capo." He was wrong, but I didn't correct him.
She put the plastic bag back into my carryon and handed it to me, all smiles. She said "It didn't look dangerous, but he's 'Mr. Music' so I thought I'd show it to him." I waved at Mr. Music and said "Thank You!"
I took my carryon, collected my watch and pocket stuff, put on my shoes and moved on down the concourse. Had my ritual Departure Gate Quarter-Pounder and waited for my flight to be called.
The flight to LaGuardia was uneventful, and I had a good view of New York as we crossed Brooklyn. LaGuardia is a smaller airport than O'Hare, and feels somewhat cramped and hassled. No problems at baggage claim.
I knew that I could call for a shuttle to take me to the hotel, and found the phones that one can use to call hotels directly. There were two phones on the kiosk, with the codes for the hotels posted above. This next fact will also mean something soon. All of the codes began with "1".
The phones had been vandalized. But get this. In both cases, the only things on the phones that had been destroyed were the "1" buttons. This Minimalist Vandal had done no more than what was necessary to make the phones completely useless. No more, no less. I called the hotel on my cell. Glad I had brought it.

The hotel (The LaGuardia Airport Hotel) looked nothing like its pictures, but who does?

It was a pleasant, undistinguished place to spend a night. It is, of course, right across the interstate from LaGuardia, but there was remarkably little airplane noise. I had supper at the hotel – a $20.00 cheeseburger. It only tasted like a $5.00 one. I left a wakeup call for 8:00 and fell asleep reading Nero Wolfe.
No wakeup call came. Fortunately I had no place to go in the morning. The airplane noise (mostly an occasional ominous rumbling) eventually woke me. I had breakfast in the hotel – a small eggs and french toast buffet ($16.00!) The cook doing the omelets was deaf, and so I had to point at the ingredients I wanted. No problem, of course. It's just that including details like that in my notes keeps the whole thing from turning into one big mish-mash in my memory.

I took a morning walk in Sunny Brooklyn and explored the neighborhood a bit. Fairly urban, but mostly pleasant. Many trees. Took some pictures of the area and the airport. Right on

the hotel grounds I saw a small, walled garden, with no obvious means of access, and which could not be seen from the guest rooms. I wonder why it's there? I confirmed my "Car Service" reservation for 1:00 PM today. Good thing too. They had no record of the time I wanted it.
Had lunch at the hotel (no alternatives within walking distance) and had the same cheeseburger. I still had some time, so I read for a while in my room. At about noon (check-out time) I checked out, left my bags at the desk, and took another short walk. By 1:00 I was back in the hotel lobby, and the car arrived. Not a cab or a limo, but a private "Car Service." I suppose we have those in Chicago, but I have never seen one. It was a normal passenger car (although late-model, clean and posh) rather than a taxicab. We loaded my bags in and set out across the Wilds of Brooklyn.

The route we took (Int. 278 – the Brooklyn-Queens Expwy) gives a nice view of Manhattan across the river. Naturally I was all eyes for the docks, and a first sight of the Queen Mary 2. I

finally saw a red stack in the distance and for the last few minutes got glimpses of the ship from the car. The car pulled up at the cruise terminal and we unloaded my bags.

It's all very much like arriving at a small airport. The baggage handlers (Teamsters, not Redcaps) advised me not to have the guitar case loaded, but to carry it with me. I took their advice and only gave them my big

suitcase. And a big tip.
There was plenty of time, and there was no mob scene, so I

walked up the wharf to look at the ship and the surroundings, and to take some pictures. Huge ship. So much so that I couldn't get the whole thing into one picture. It was a sunny day, so the photo ops were prime. A quaint note – the whole time an ice-cream truck with music playing was cruising the dock area.



I finally went back to the entrance of the Cruise Terminal. There were plenty of people arriving, but still no madness. I had been told that it would do no good to arrive before about 2:30 as the ship would not yet be open for boarding, but it was nearly that time so I

went inside. There was a long line with 5 switchbacks, but it was a good opportunity to people-watch and to see, on the video monitors, a DVD about the ship. The line moved well. I was glad that my new camera is good with available light. I had already taken a couple of non-flash pictures when a TSA lady saw me raise my camera. She informed me that photography was not allowed. I snuck the picture anyway, and then thanked her and assured her I wouldn't dream of violating the rules.
I finally got to the front of the line, and was sent to a station at the check-in desk. There they made an imprint (electronic) of my credit card, took my picture and checked my passport. I was issued a boarding pass and a credit-card-like card to use for anything I bought on the ship.


By the time I was through with all of that, the ship had opened, and I was ushered right inside. Still no madness or mobs. I went up a jetway-like ramp and into the ship through a hole in

the side. Inside I was greeted by formal columns and uniformed young people who checked my boarding pass and directed me to the
elevator.


I walked through a very posh corridor, got into the elevator and punched in my deck (deck 5.) We got there more quickly than I expected. I noticed that speed the first few times I used the elevator, and eventually figured out that there is much less distance between decks on a ship than between floors in an office building.

After a few false starts down wrong corridors (all extremely long and identical)

I found my cabin, with my big suitcase sitting right outside. The card opened the door, and I stepped in. It looked exactly like the picture on the web site (Britannia Standard Inside D2 [AKA "Steerage".]) Same colors,

same layout, etc. It was very small, of course, but didn't feel cramped for one person. With 2 people – let's say that they would have to like each other a lot. To be fair – it was very pleasant. (Cunard – Sorry about the "Steerage" crack – but I'm leaving it in.)

On the bed was a vinyl cover saying "Luggage." They didn't want you to put your dirty old suitcase right on the bedspread. Also on the bed was a gift bag containing a coffee mug (from which I am

drinking as I write, so yes – I did get it home intact.) A gift from The Cruise Shop. On the little desk, along with information about the ship and the daily schedule, was a card saying that I had been granted $50.00 in on-board credit, but it didn't say why or by whom. Turned out that it was also from The Cruise Shop, an excellent travel agent, whom I will gladly consult again when I next go to sea.
I washed and changed and unpacked some. By this time it was around 3 or 3:30 PM and we wouldn't cast off until about 5. I went up to the
Promenade on deck 7, where one can walk all the way around the ship, very much like the old-fashioned liners. I wandered about and explored a bit, and found the top deck, from which I wanted to watch most of the process of leaving New

York.

The requisite emergency drill took place before we had even cast off. They blew a certain code of beeps on the PA, and we all went to our cabins, retrieved our life jackets, and were directed to our mustering points. A note on human nature: Each time that it was announced that we were not yet to put on our life jackets, more people put them on. By the time we were asked to put them on, I was (I really was) one of the only ones that hadn't already donned the orange vestment.

First I returned to deck 7, on the port (shore) side to watch the cast-off. As we pulled away, I quietly sang "Farewell Shanty." I had nothing to pour into the sea as a libation, so that was my offering to the Sea Gods. I could still hear the ice cream truck music from the wharf.

Interesting technical note- because of the rotating "Pods" that propel the ship, no tug boats were needed to move us sideways, away from the wharf. I went back up top to watch us leave NYC. The day was still sunny, and the views were wonderful. Took many pictures. When I went aft (how nautical I had already become) I noticed

that there were already people in the swimming pools. Had they worn their swimsuits under their street clothes? How did they get in there so quickly?

It was very interesting to see (from a great height – it's a big ship) the buildings of Manhattan recede, and to watch the shipping in the harbor go by. We had escort boats from the NYPD and the Coast Guard, and I saw a

helicopter above us most of the way out of NY.


Of course, everyone including me took pictures of us going under the Verrazano-Narrows Bridge (very little clearance.) I wondered what it must be like to be driving across that bridge and

suddenly see this huge ship just a few feet below.

I then went back to deck 7 and took a position on a deck chair. The sun was going down as we continued to pass out of the harbor. I saw what I think was Brighton Beach (they have an amusement park there, don't they?) and lots of urban landscape going by in the distance. I saw a beach ball floating on the water near the ship.

We were a good distance out, but still in sight of land, when I saw a boat (a large motorboat, probably a "Launch") coming right for us. I wondered what that was all about until I saw the word "Pilot" painted on the side. It came right up alongside us, and soon a man popped out of a hole in the

side of the ship, climbed down a rope ladder, and hopped onto the unsteady deck of the front of the boat. Apparently the Harbor Pilot who had been guiding us out of NY Harbor. The boat then sped away toward a large boat / small ship that also had "Pilot" painted on it. Soon after, I saw the "Launch" head off toward a ship that was entering the harbor.

I had signed up for the 8:30 Dinner seating at the main restaurant, the "Britannia", so there was time to watch the sunset. The dress code for the first dinner was "Elegant

Casual" – jacket, no tie, no jeans. I went to my assigned table, upper level, near a window. My dinner companions for the journey (average age, probably about 60) first - 2 English couples, very different from each other. One couple seemed like working-class people who had worked themselves up into management, and one couple seemed born to Bank Manager-like status.
Another pair was 2 ladies from Cardiff; One a native Welsh woman with a nice Welsh accent, and her traveling companion, a Serbian lady who had lived in Wales for decades. Finally, a pair of American sisters. One was a fairly normal-looking lady; widowed, retired. A bit vague, but pleasant. Her sister was a more glamorous sort. On the formal nights, what she wore must have cost thousands, and seemed to come straight from Vogue or some such. She was basically nice, but nutty as a Snickers Bar.
The food was good, I chose roast beef. The waiter knew all of our names (which is not surprising considering the pre-choice of seating) and, for the whole trip, called me "Sir James." At first I thought he called all of the men Sir Something, but eventually I realized it was just me. I never did get to the bottom of that. He was probably just being pleasant.
I didn't feel the ship rocking at dinner. It was not at all rough, and we were very near water level in the dining room. After dinner I walked the Promenade once to see the dark (with a few lights visible on shore still) and I realized that I would need to develop sea legs in order not to veer into things. I never felt at all seasick the whole time, however.
One thing I learned about an Eastbound crossing – each night, before retiring, you have to put your watch ahead one hour (except for the last night, I found out) to make up for the time zones you're crossing. A small price to pay for zero jet-lag. All of this and more is on the cabin TV, along with a channel with a route map with a little ship on it, like the ones you see on trans-Atlantic flights to show you where you are. Plus every night they leave you a newsletter with tomorrow's activities and general information.
It was getting late, and it had gotten very windy, so I went to my cabin, unpacked a bit more, and got ready for bed. I discovered that my travel alarm clock had stopped working. I called for an "alarm call," and put out a card on the doorknob to order room-service coffee and juice for the morning. Free! (or, at least, pre-paid.)
My alarm call came at 7 as requested. I'm paying way too much for this trip to be unconscious for more of it than I have to! Coffee and juice were delivered at 7:30. Very elegant. Breakfast was

at the buffet called the "King's Court." That was my choice most mornings. Actually there were 2 or 3 buffets, each with a slightly different emphasis. I, of course, went straight for the one with the unhealthiest food. Two kinds of sausages, for example. And Corned Beef Hash! Good breakfast, the sort I must avoid getting used to. They had Grits!
As I started noticing my fellow passengers, I heard a lot of German. I remembered that, after stopping in Southampton, the ship would go on to Hamburg. It turned out later that about 40% of the passengers were German.

I went out onto the Promenade, which was on the same deck as the buffet. Now there was nothing to see but sea and sky. We were far from land. It was still sunny, with some clouds, and there was always wind. Not so much as to be a problem, but always present. As we were going somewhere near 30 MPH, that would account for some motion in the air.

Looking out to sea, I noticed a small bit of mist floating above the water. It soon dawned on me that it was a whale blowing. There were a couple more, and I got a picture of sorts. Interesting to have it pointed out that things live in that water. Later I saw a porpoise near the ship, but had a much better view of such later in the trip.
At 10:00 I joined a tour of the public areas of the ship. No "backstage" tours available, unfortunately. I would have liked to have seen the engines and other inner workings. I had lunch at the Pub the "Golden Lion." It was Fish and Chips and Mushy Peas, and it

was OK.

A lot of what is available on the ship is near the bow, up and down stairway A, which goes up and down 12 levels. I explored there for a while. Cleverly tucked away on deck 11 (if I remember right) is a door to the Bridge Observation Area. It is a small hallway

behind the bridge with windows into the bridge. You can see the computers and such, and get a good view out the front. There was a big sign that said "No Videotaping or Flash Photography." Thank goodness for available light. I got some OK pictures. Also

up in that end of the ship were the Library and several other rooms, including a high-tone bar, a health spa, and the cigar lounge. I didn't go in there.
As Dinner was at 8:30, I had a snack at the buffet (some snack – a pork chop) and took coffee and madelines onto the promenade (this is starting to sound so civilized that I may need to go survival camping just to average out to me again.) I noticed that that many of the cushions on the deck

chairs had been removed. I saw a deck man removing more as I sat and stared out to sea. I stood up to stretch for about a minute at the rail at the foot of my chair, and, when I went to sit back down, I found that my cushion had been removed, along with the empty coffee cup. I learned that when it's time for those cushions to come off for the day, they come off.

I went back to my cabin to get ready for dinner. It was the first Formal Night. I wore my kilt outfit. Before dinner, there was a reception in the ballroom, where I shook hands with the Captain. My thought was – "Great-Grandfather made the trip West from Cornwall in steerage. Now here I am shaking hands with the Captain." I felt like Daniel John was sitting on one shoulder, and "Uncle Dan'l" was on the other. Two people from Scotland – one little old lady and one of the "Gentlemen Dance Hosts" came up to me at the reception and asked what Clan the tartan was.
Everyone was dressed very fine at dinner. All were a bit looser and friendlier. We would all be buddies by the end of the trip. I had lamb. Cheese for dessert. There was a "Black and White Ball" after dinner. I looked in for a moment, but didn't stay. There was a "Big Band" with a singer whose delivery reminded me of the Bill Murray parody on Saturday Night Live.
It was getting late, so I went back to my cabin, put in my wakeup call and ordered my morning coffee.

Didn't do much on Thursday. I was finally starting to relax. I had coffee in my room, and went to the same buffet for breakfast. I had a look at the Royal Court Theatre, which had been closed when I was on the tour yesterday. Thrust stage, seemed like good tech, and mostly flexible bench-like seating. I found the computer rooms and internet café. Odd to see a computer training room so much like the one I work in on the ship. They give classes in Word, Excel, etc. (Food for thought.) In another room were computers you could log on to (for a price) and access the internet and your own email service. I bought little souvenirs for people at work, and a windbreaker for me at the gift shop off the main lobby.
I had lunch at one of the other buffet lines – a burger and fries. The cook putting the burgers together asked me "Fries? Pommes frits?" They even have to be bi-lingual at the hamburger stand. Then he asked me if I wanted "Any salad, sir?" by which he meant did I want any lettuce, etc on the burger.

In the afternoon there was a lecture on the Elephant Man in the "Illuminations" theatre. The one where they also do planetarium shows. The lecture was OK – nothing I hadn't heard before, but well-presented. In the ceiling of the Illuminations theatre is a shallow dome, which hangs over the middle 100 or so seats. If you want to see one of the planetarium shows, you go at the appointed time and sit in one of those seats, which are color-coded. Then the dome lowers down over you (I don't suppose it goes all the way to the floor) and the planetarium show is beamed onto the dome from projectors among the seats. Needless to say, I didn't go. I'm not partial, shall we say, to having domes lowered onto me.
At 5:00 we passed within 38 miles to the north of where Titanic went down. I made sure to be on the starboard side for that, and imagined it was night and we could see the distress rockets that they sent up. Eerie.

Stopped into the Chart Room bar to hear a string quartet, and ran into the ladies from Cardiff. We chatted for a while.
I went to my cabin and read for an hour or so. It was to be another formal night at the restaurant, and I didn't feel like doing the kilt thing again so soon, so I had supper at the buffet. I don't remember what I had, but I'm sure it was just fine. After supper I had a beer at the Pub. Just down the bar was a mildly drunk and slightly belligerent young Englishman, who I found out later was a member of the RADA acting troupe. I went back to my cabin and finished my second Nero Wolfe book. I decided against the midnight buffet. I wasn't really hungry, and was pretty tired. As I said, it was an uneventful and relaxing day.

Up at 8 today – this decadent life-style has got me sleeping late! Speaking of decadent – again had coffee and juice in my room. I could definitely get used to room service at all hours of the day.

Breakfast at the buffet again. The weather was cloudier, but pleasant. So far, the temperature hadn't gotten above 70. Not that I was planning to use the pool a lot.

I got a book out of the library: The Stranger House by Reginald Hill. Not sure if I liked it at first, but I gave it a chance. I tried lunch at the Britannia Restaurant, where I usually have dinner. I was seated at a large, round table by myself, and the Headwaiter asked if I minded if they seated some other people there too. I said "No problem," and soon he seated 3 couples. All German. I didn't realize this until I greeted the lady to my left and got a surprised look and no reply. They evidently decided that as I was non-German, they should ignore me, which they did all through lunch. I wasn't even there. Nobody even looked in my direction. I finished first, and, as I rose to go, I took my leave of them and wished them well, in German. I hope it caused some sort of reaction, but I didn't look back. Nothing against Germans, but rude is rude.
There was an afternoon performance in the Royal Court Theatre by the RADA troupe of an abridged Romeo and Juliet. Sort of a "Scenes from R & J" sort of thing. There were 6 actors, and they mostly (except for R and J themselves) covered several characters.

Good, at about grad-student level. Cathy- one of the actors had once been on Torchwood!

Had another "Snack" at the buffet and sat on deck. The sun came out. We were about as far out to sea as you can get at that point, at least on the Atlantic. Odd to think that the depth there could be measured in miles. I saw a container ship in the distance. If I recall

right, it was about then that I saw, and got a picture of, some dolphins jumping off the starboard side. I explored some more, or perhaps "wandered" would be a better word.

I'd seen most of what there was to see on the ship, although that doesn't mean that I was getting bored. I found the launderette on my deck – laundry day tomorrow. Does the excitement never stop?
I spent some time reading, and went to dinner at the Britannia with the usual crowd, minus one couple, I believe. It wasn't formal, just jacket and tie.
A very lazy day. I did very little and took no pictures. I tried breakfast at the Britannia. It was a very different group at the table. There was a couple from Madison, WI, and a lady research scientist, originally from Russia, who had been working in Chicago and now she and her son were on their way to Paris where she had a new job. Her son was about 12, and very bright. He spoke English well, and was not worried about living in Paris as he was already fluent in French.
I did some laundry that afternoon. Each deck has a "launderette" in which there are a half dozen washers and dryers. The other people in the launderette were a couple from Dubuque, where they don't seem to understand that, when a person in the laundromat is reading a book, that isn't your cue to talk to him (And talk. And talk.) All the machines were free of charge, with a bin on the wall with packets of "washing powder." A random note – the last person I remember hearing say the phrase "washing powder" was Mick Jagger.
I finished my book and got out another by Hill, this time a Dalziel-Pascoe mystery called Good Morning Midnight. At the library an elderly German lady asked me if I could help her. She wanted to put in a bid at a silent auction for some art that was being sold on board, and wasn't sure where to go. She spoke almost no English, and my German was stretched to the limit. I hope she got to the auction in time.
Call me a sucker, but I ordered a copy of the trip DVD. I have watched it since returning, and it will be a nice reminder in the future. It does have some footage taken on our crossing – I recognize some of the people.
I had lunch again at the buffet, and in the afternoon, I read and napped in a deck chair.
It was another formal night at the Britannia, and I wore the kilt.
The last full day at sea. Reading the above, I see that, enjoying the trip though I was, I was about ready for the next phase.
I had breakfast again at the buffet, and finished the book. All books had to be in by a certain time that day, and I got it back in time. I mostly revisited some of my favorite places, including the bridge observation windows.

There are a lot of places on the ship where it's nice to sit, or stand, and gaze out to sea. Having nothing but horizon to look at makes one appreciate the sky, and the light and clouds in it. I even found myself watching birds in flight. There were birds to be seen

every day, even when we were hundreds of miles from land. Obviously they can rest on the water, but imagine the migration they have to go through to nest. And how do they know which way to go when it's time?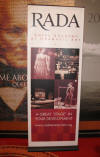 Lunch again at the burger buffet, and napped a bit in a deck chair. That afternoon the RADA troupe was doing Under Milk Wood. It was better than R and J, with a more

realized set. Still a unit set of sorts, but much better for the flow and separation of places and moods. After that, at about 4:00 I didn't feel my best, like things were a bit too stuffy. I rested a bit, had tea and cake at the buffet and felt better. Am I becoming

English? Lord help us all.

I picked up the trip DVD at the photo store, where they flog all of the pictures of you that they took at dinner, at boarding, etc. The only picture I bought was the one of me shaking hands with the Captain. I went "walkabout" some more and rechecked the souvenir shop. All of the other shops were much too Tony and Pricey for me. I didn't even buy anything at

the tables of supposed "bargains" they set up in the main hallway.
Got mostly packed in the afternoon, as one puts one's baggage in the hallway before retiring on the last night, being sure to keep one's toothbrush and a set of clean clothes for the morning. They collect the luggage for off-loading at Southampton.
At bedtime, at 10:57 PM, I noticed on the route map on the cabin TV that we were exactly south of Looe.
Dear me what a day – time to disembark; get to Looe and into my B and B. Doesn't sound like too much of a chore, does it? And it shouldn't have been. The underlying theme: Once you have set your travel plans, don't change them.

Woke at 7, still on the ship. We had docked at Southampton earlier in the morning. I had thought it would be nice to get up extra early and see some of the English coast, and the Isle of Wight, go by, but then finally realized that, at that time of day, it would still be dark. Maybe relaxing for 5 days slows one's thought processes.
I had a last breakfast at the buffet, took a quick look outside, and went to my cabin and finished packing. We were to be out of our rooms by (if I recall right) 11:00. I left my packed hand luggage in the room, as it was only about 9.

Back on the deck 7 promenade, I had a better look at Southampton. I haven't seen many seaports, but I'm guessing that this one is typical. A modern-looking town in the distance, with docks, warehouses, ships, boats, and ferries in the foreground. There was a large parking ramp entirely filled with Mini-Coopers awaiting export. We were being refueled (I

thought - this has since been confirmed by my brother Dave, a former Navy man, who assures me that refueling a ship is called "bunkering") through a process called "Bunkering" which involved a large boat pulling up alongside, many hoses going in and out, and "No Smoking" signs well displayed. I'm sure they wanted to get things taken care of ASAP, as the ship was soon off to Hamburg.

At the appointed time, I retrieved my hand luggage and went to the ballroom. We had been given group assignments, and were to wait by groups for a disembarkation call at various places around the ship. Finally my group number was called, and I went to the departure area. Thankfully, due to the system, there wasn't a mob. (Very Mob-Free,

these Cunard liners.) They scanned and took my "Credit Card" and I simply walked off.
During the crossing, a government official with a laptop and a satellite link had done all of the

Immigration checking and we didn't have to bother with that at the dock. Also I had "Nothing to Declare," so I carried my guitar and carry-on down the ramps and hallways into a large, warehouse-like space to reclaim my big suitcase, and then out into a large

portico where the taxis were. I got one easily, and went to the bus station to wait for my bus to go to Liskeard, where I was to be met, by prearrangement, by Frances, by B and B hostess. It was odd and pleasant, upon arriving at the bus station, to see the two ladies from Cardiff there. We re-said our goodbyes.
So here's where I made my mistake: When I checked in at the ticket desk, the lady behind it said that, instead of waiting a couple of hours for the bus I expected to take, there was another one going to Liskeard in about 10 minutes. I figured that there would be plenty of time en-route to call Frances and tell her of the change in plan, and that it would actually make things easier for her, as I would now get to Liskeard in time to catch the last train to Looe, my destination and the location of the B and B. I said "OK- I'll take that bus." And did.
The central flaw in the new plan was my assumption that it would take this bus the same amount of time to get to Liskeard as the other, later one would have. It didn't. The ride was pleasant enough, passing

fields of heather, and other English scenes of

countryside,

town

and

seashore.
But I did notice that it seemed to be taking a longer time. For example, we had an hour's stopover in Plymouth. Enough time for a hamburger, but otherwise time wasted (no offence intended, Plymouth.)
Actually, in Plymouth, at the McDonalds (the only open eatery within reach of the bus station,) I learned a new British word. After I ordered, the counterman said "'t'ninmai'?" Three apostrophes in one word! Turned out that it means "Sitting in, mate?" Which is equivalent to our "For Here or To Go?" I assured him I was sitting in, and all was tranquil.
In further encounters with Briticisms, I, with the aid of my grey hairs and a hand cupped to my ear, convincingly pretended slight deafness (not entirely untrue) when confronted with the undecipherable. They had to repeat, slower and louder. Then I usually got it.

Back to the trip. I got to Liskeard with a few minutes available between arriving at the train station (a long pull on foot from the bus stop with luggage) and the train's departure, so I tried to call Frances. I couldn't make the payphone work. But never mind, I thought- It's a very short train ride to Looe; I'll be able to call her from the Looe station before she would have to leave to get to Liskeard. So I got on the Looe Valley Line heading south.
We started off energetically, and made the first stop at Coombe. Then we backed up. That, plus the shouts of a pack of hormone-drenched high-schoolers at the end of the car (one girl screamed loudly every time the train blew its whistle) started my stress level climbing. Shortly we stopped again (at a switch, I later learned, which the train's conductor or "Guard" had to leave the train to operate) and started forward. From there, it was less than a half-hour to Looe, but time was getting critical.

I disembarked in Looe, and found the nearest pay phone. I couldn't make it work.
In Britain, they will publish or tell you a telephone number containing a large number of numbers, with no parentheses or dashes. I am quite capable of pushing buttons on a phone, and long ago mastered the art of dropping a coin, even a foreign one, into a slot. The problem is- they don't tell you which or how many of those numbers you need to actually tap in, depending on where you are in relation to the location that you're calling. You just have to sort of know.
I tried several versions of the number, and crashed and burned. Up the road, I saw a taxi stand, so I made for it. Fortunately the taxi driver was a neighbor of Frances', and knew how to get me to

her place (The excellent and affordable Pencarrow Bed and Breakfast) and did so with dispatch.
She wasn't there. I assumed that she had gone to Liskeard, would not find me at the bus stop, and confusion, at least, would result. So, damp from mist and exertion, exhausted from hours of travel and from lugging my stuff, I sat myself down on her front porch to wait and apologize.
After about an hour, an attractive lady stepped into view around the corner of the house. "Are you Jim?" she asked. I admitted it, and she introduced herself as Frances' sister. We went into the house. Inside was another attractive lady (Frances herself) on the sofa with a foot elevated and ice-packed.
Long story short — she had sprained her ankle earlier that afternoon, and had just returned from being x-rayed, etc. in Plymouth. She had phoned a friend to pick me up in Liskeard, and wanted very much to know why I hadn't been there.
I explained, and I'm sure she made allowances for my being obviously both foreign and idiotic. In any case, she forgave me. I was glad that the gift I had ordered for her (a small replica of the Chicago Harbor lighthouse) was there for me to give to her. I think it helped.
By this time it was about 9:00 PM, and I was ready for bed. Thanks to the crossing by ship, I wasn't jet-lagged, but I had had enough of that Monday. I went upstairs (lovely room, great view, en-suite including shower, very comfortable, that's the Pencarrow B and B) unpacked some, cleaned up and went to bed.
Woke at about 8 – my travel alarm was still broken (and it stayed broken) but there was an alarm clock in the room. My laptop was able to hook up with the WiFi here in the B and B (Conveniently located – tastefully decorated- free WiFi – Consider the Pencarrow Bed and Breakfast when you visit Looe!)


I walked down the sloping road into West Looe. Looe used to be two towns, East Looe and West Looe.

They were, and are, connected by a bridge over the river Looe. They have long since been joined under one town council, but they retain somewhat separate identities and "flavors." East Looe is larger and busier, therefore somewhat more touristy, but both are pleasant and worth a visit. At the foot of the slope (and there are a lot of slopes in Looe) was "The Tasty Corner." A local café where I had breakfast, and a good one, too. Love that British bacon. (Frances would have made breakfast for me, but her sprained ankle had put her out of action for a while.)
I went up to the bridge and over to East Looe, where I did some exploring and checked out the seaside. There is a very nice beach, and the whole seafront is in a large bay,

therefore somewhat sheltered. On the East Looe side of the inlet to the harbor – the East Looe river estuary – is the "Banjo Pier" – a long, narrow walkway atop a substantial stone wall which ends in a circular area with a harbor light and seats around the edge. A very pleasant place to spend some time.
A curiosity re: the vicinity of the bridge. I had read, earlier, in the local paper, about a landslide

that had damaged part of a house. Here it was at the west end of the bridge. Right in town. Just above the road that goes over the bridge, and above many houses and businesses along the road, there are terraces and lanes at several levels going up the hillside. One of the lower of these, where there had been a stairway attached to the retaining wall, had slipped and fallen.
Several tons of concrete and rock had given way due, I believe, to the unusually damp weather. One corner of a good-sized house had been smashed in, and a car or small van was mostly buried under the rubble. No-one had been hurt, fortunately. For the next two weeks, I got to see many people, who were simply walking over what they figured was a perfectly ordinary bridge, suddenly see that disaster scene and stop in their tracks and stare. Also, I noticed that, over the course of several days, the van continued to be crushed by the weight of the rubble. It got flatter and flatter as the days went by.
I had asked after the best places to get fish and chips, that being a favorite lunch of mine, and found a recommended spot for lunch. I got it "Takeaway" and ate it along the wharf side. I

noticed quite a few family groups doing something which didn't seem to be fishing along the edge of the wharf. It turns out that they were "crabbing." One has a small cloth bag filled with bait of some sort on a string which is lowered into the water, sometimes as much as 10 or 12 feet below. Crabs grab onto it, and you raise the whole thing up and shake the crabs off into a bucket of water. It seems that this is fun, although I'm not sure how. At the end of the day, the crabs are dumped back into the river, much to the delight of the gulls, who are very hip to the whole procedure.
After lunch I walked back up to the B and B, and rested a bit. On the ship I had read both of the Nero Wolfe books I had brought, and was happy to find a copy of "Harry Potter and the Deathly Hallows" in the room, along with several other books. I like the Potter books, and this one was long enough to keep me entertained at bedtimes and such for several days.
In the late afternoon, I explored town some more, and stopped into a restaurant (which shall remain nameless) for supper. I ordered the roast pork, and very much wished I hadn't. I also ordered a glass of the house red wine, and developed a survival skill which stood me in good stead regarding most of the house red wines at restaurants in Looe. I ordered also a glass of water, and, after the first hastily-swallowed sip of the wine, I diluted it with a goodly portion of the water. It would become at least drinkable at that point.
It had been recommended to me that I attend a meeting at the Guildhall that evening. I was in town for an event called Dehwelans (explanation to follow) that would take place the next week. I arrived in Looe a week early to relax and enjoy the area on my own. This meeting was of the steering committee for Dehwelans. I was to be performing at Dehwelans, and the people there knew about me, so I went up to the meeting to introduce myself and see if there was anything I could do to help out.

At the meeting I met some of the people in charge of the event, including one of my new favorite people, Mayor of Looe Ron Overd. He's a very straightforward, gruff but jovial, ex-Army, "Let's get it done" sort of person (very unlike myself) and I am very glad that I met him. I saw him again several times before the trip was over. In the meeting, I had to pinch myself several times thinking that I had drifted into an episode of "Vicar of Dibley." The accents were Cornish, but the potential for comedy was there.

After the meeting, it was well into the evening, and I crossed back into West Looe. I had noticed a very old-looking pub called "the Jolly Sailor" and wanted to investigate. A very pleasant place it is, too. Something like 500 years old, complete with a Landlord that will tell you how a certain beam in the ceiling is from a French Galleon. And maybe it is, too. More about the Jolly Sailor before we're done. They serve one of my favorite ales: "Doom Bar." A fine Cornish product.
After a while, and a lot of good chat, I walked up the hill to the B and B, used my key to get in, and headed for bed.
This morning I decided to try a walk on the Coastal Path, going west. I wasn't sure how far I'd

go, and I spotted a couple of places that would make good halfway-points. The route starts out along the row of houses and hotels lining the beachfront of West Looe. One hotel/restaurant was called "Tom Sawyer's Tavern." I never found out why.

Soon the park-like walk goes through a kissing-gate into a cow pasture. Just inside there's a sign mentioning a "Celtic Site," the ruins of an old chapel, 100 yards farther on. It must have been pretty ruined, because both on the way out, and on the way back, I

couldn't find it.

The going was pleasant, if occasionally a bit vertical. I only met a few people along the way. The views over St. George's Island (AKA Looe Island) were spectacular. I have heard that, during WWII, the Nazis bombed the island, thinking it was a ship. Pretty big ship. The

weather was still mostly sunny, although there were enough clouds for one to believe that the summer might continue as grey and damp as it had been so far.

As I approached Talland, I realized that it would probably make a good stopping point, and probably the turnaround. My feet aren't what they once were, and there would be no point in overdoing and being crippled for days.

All I saw of Talland was a small, rocky but pleasant beach. There were several families out exploring the tide pools and crabbing, and two dogs with their mistress. They looked like Irish setters or something similar. It was interesting to watch them. One dog was

constantly bringing his mistress a large stick for her to throw into the water. He would then enthusiastically retrieve it, and beg for more. The other dog was just as active, but never once fetched a stick or went into the water. He seemed just as happy to watch and jump around as the game went on.

There was a small, modern café at Talland beach where I had a pasty for lunch and some ice cream. Cornwall has some of the best ice cream I've ever tasted (locally produced) and I'm afraid I had more than my share over the two weeks.
By the time I got back to Looe, I was glad that I had turned back when I did. The weather was turning humid, and I was feeling tired. I went back to the B and B and washed up. I also practiced the songs I wanted to sing at Dehwelans. I had been practicing quite a bit at home, and I wanted to stay prepared. I read for a while.
I had noticed a restaurant in Looe that called itself "Tex-Mex," and I was curious to give it a try at suppertime. I suppose not naming the place won't camouflage it very much, but I'll leave it nameless nonetheless. To start with, I had never sat on a more uncomfortable chair in a restaurant in my life. I felt like I was going to fall through the center onto the floor. I'm glad that I'm broad-beamed enough to have spanned the center cavity and get some support around the edges.
I ordered some nachos (passable,) a Mexican beer (bottled) and enchiladas. The enchiladas come alone, with no beans, rice, or any of the sorts of sides I'm used to, and would have expected both in Texas and Mexico. Also, when I asked for some hot sauce to put on top, the waitress didn't seem to comprehend, seemed slightly frightened, and said she'd ask. She didn't return until she brought me the check. With a little mental math, I realized that the meal had cost me nearly $40.00. And their credit card machine couldn't manage my cards. I'm glad I had cash, and made a mental note not to order a meal unless I had enough cash in my pocket to pay for it.
I stopped and got an ice cream cone after leaving the restaurant, and ate it on the wharfside.

After that I craved coffee, and stopped into a "Chippy" (a fish and chip shop) and asked for a takeaway coffee. They serve coffee. It said coffee on the board above the fryers. There was a coffee machine. There was coffee in it. But the counterman acted as if I had not only asked for some strange, alien substance, but in doing so I had ruined his whole day. Nonetheless I got coffee. I sat for a while watching the tide go out. I'll get the hang of this tide thing someday. We don't have them in Chicago.
After a while, as it was getting dark, I went back over to the Jolly Sailor. There at the bar was Mayor Overd. He remembered me from Tuesday's meeting, and we had a nice chat for an hour or so. (Look at me – having drinks with the Mayor!) I got back to the B and B at about 10, and read for a while.
I had breakfast today at "Café Fleur" (eggs and bacon – mustn't get used to it) in East Looe. I'm beginning to get the hang of the differences between "Restaurants" and "Cafes" and other various eateries. For someone like myself, used to having eating places within easy reach that are open, in some cases, 24 hours, and where you can get any sort of meal at any time, the various classifications and varied opening hours of British eating places can be a bit bewildering. I just want to eat, not learn a whole new subculture at each meal.
My solo excursion for today is to St Keyne to see the holy well. The old legend of this well is that, at the moment a couple is married, the first one to drink of the water of the Well of St. Keyne will be "Master for Life." I later met a lady who said that, at her wedding, immediately after the ceremony, a friend had presented her and her groom with small bottles of water from the well. She instantly uncorked hers and bolted it down while her new husband, ignorant of the legend, just looked at her. They told him afterward what it was all about.

I got on the Looe Valley Line at Looe. The stations (all very small) between Looe and Liskeard are all "Halts," where the train will stop if requested. If you're on the train, you must tell the Guard that you want to get off at St. Keyne (or Causeland or Sandplace) and,

if you are at one of those stations wanting to get on, you flag the train down.
I let my will be known to the Guard, and was let off at St. Keyne. It had been raining overnight, but the sky was mostly sunny, what could be seen of it through the trees.

This area of Cornwall (called South East Cornwall, but is rather at the northern end of the country on my map) is very lush, similar to parts of North Carolina.

Vines and moss and bushes everywhere, and a pervading green smell. At least in late summer.
I remembered enough of the map (which I forgot to bring) to guess (correctly as it turned out) which way to go up the road. I walked a very narrow roadway, paved, with overgrown

hedgerows on each side, between 5 and 6 feet high. You would hardly know that there were stone walls at their core, so vegetated were they. It was a 2-way road, so I had to watch and listen for cars. When one would come by, I would have to tuck myself as far as I could into the hedge to avoid their side-mirrors. If two cars encounter each other on such a lane, one will have to "reverse" to a Passing Place (a slight widening in the road) or a farmer's gate or some such.

After about a 20 minute walk up the road, I found the well at the junction of that lane and another road, slightly larger. The well is a low, carved stone box with a peaked stone
roof, open on one side. Height at top of peak, about 4 or 5 feet. The area by the opening

is paved with stones, and the whole area is very old and damp and mossy. There is a plaque set up saying that the well was rebuilt in, as I recall, the 1930's, and explaining the myth. There is also a small Celtic cross.

Inside the "Box" is rather dark and a bit creepy. Just in front of the opening, the recessed stone pavement is covered with water. Looking inside, I didn't think that the well itself had any water in it, but that turned out to be an illusion caused by the water's stillness and clarity.

Even though I had resented the well's description in the tourist information as a "Wishing Well" (a rather demeaning classification for an ancient Celtic site) I saw some coins at the bottom of the well (very shallow) and I'll admit I added a couple of coins and wishes of my own.

I walked a bit farther on to the hamlet of St. Keyne. There was a nice old church, and some neat, mostly new houses in new style cul-de-sacs.

Not a quaint old village, but representative of how many Cornish people live today.

I walked back to the halt, and flagged down the next train back to Looe.

First time I've ever hailed a train.

Back in Looe, I found Sarah's Pasties for lunch. I had been told that they had the best pasties in Looe, and I believe it.

After lunch, back to the B and B to read and practice
(and maybe nap a bit.)
Supper at the Golden Galleon – good beef. Had apple pie topped with clotted cream for dessert. Almost too good. After supper it was still light so I went and sat by the beach for a while.

Then to the Jolly Sailor. They had in a group called the Miner Quay Shantymen. Several guys and one woman who sang a variety of shanties and sea songs, and everyone sang along. A lot of fun. It was nearly midnight when I got back to the B and B.
Up at 8. The forecast had said "Drizzle," Which seems to be the British word for "Mist."
I had thought that it would be good to get to the Eden Project this trip, and that day seemed as good as any, especially as the Eden Project has many indoor displays and activities.
The Eden Project is, essentially, a huge greenhouse or conservatory complex, built in an abandoned china clay pit (for USA readers, picture an open-pit mine or stone quarry.) The intent is to house environments in which can be found plant life from many parts of the world, to do environmental research, and to educate and entertain the public. Also to bring tourists to Cornwall.
The main buildings are two very large dome complexes, made of framework and transparent plastic panels. Not just like geodesic domes, but similar. One complex has a very hot and steamy atmosphere inside, and is for tropical plants from rain forest habitats. The other dome, almost cool by comparison, is for Mediterranean plants, including species from places like California.
I took the Looe Valley Line to Liskeard, then took the main train to St. Austell, the nearest station to the Eden Project. There was a bit of a wait in St. Austell for the bus to Eden, and the bus shelter, instead of seats, had a narrow, sloping "bum rest" along one side so one could lean and rest one's legs a bit, but not actually sit down. And I thought the British were civilized.
On the bus trip to Eden, We passed the St. Austell Brewery. I regretted not having built the time for a tour into that day's trip, but it was too late.
(Digression Alert!! Here's the St. Austell Brewery Joke: "A lady in St. Austell, whose husband worked at the brewery, was interrupted at home from her weekday chores by a knock at the door. She opened the door to find two somber-looking men on the stoop. She recognized them as managers from the brewery. 'Oh, Dear," She said. "Has something happened to my husband?' 'I'm afraid so, Missus.' Said the senior of the two men. 'He's fallen in the vat of beer and drowned.' 'Oh, no!' She cried. 'Was it quick? Did he suffer?' ''Twasn't quick, Missus, but I don't think he suffered. Fact is, he got out twice to go to the toilet.'")
Back to Eden. My train ticket had included train and bus fare, as well as admission to the Eden Project. This involved a discount, but I was most aware of the fact that it allowed me to skip the long line for tickets at Eden. I was hungry, and there was a café just inside the door, where I stopped in for a (as it turned out) very unsatisfactory sandwich. I should have consulted the guidebook. There are several places to eat inside.
You come into Eden near the top of the pit, through a visitor's center. There are several walks, lined with flowers and plants, on which to descend to the bottom, where the exhibits are. You can also pay something like £5 and ride a cable down, strapped in a harness. I skipped that. The sign near the start of that ride said "Do one thing that scares you every day." Well, I'd just had the sandwich…
As you walk down you can see in the distance various buildings, plant displays and modern sculptures. But you mostly see the Biomes. They loom lumpily from the quarry floor. There are other buildings; an indoor/outdoor theatre, an indoor exhibit/display/office center, and an interpretive show.

I went straight for the area near the theatre, where I saw and smelled wood smoke and food.

Most of that outdoor area was being used by families participating in an activity where in you pick some basic materials – logs, rope, canvas – and build some sort of shelter. A teepee or some such. It looked like fun, and probably a hundred people at any time were involved. But I noticed that they were selling vegetable stew and "jacket potatoes." Though not a vegetarian, I enjoyed it thoroughly.

Then to the tropical biome. At the end, I was soaked with mist and sweat, and a bit light-headed from the heat and the loftiness of the ceiling of the structure, but I had enjoyed it.

Not only were there the plants

(some huge and/or rare) with interpretive information,

but replica structures and other artifacts showing how people live in those sorts of areas. Very interesting.
Between the two biomes is another center with cafes and shops. I passed through to the

Mediterranean biome, where the air was much cooler and dryer.

This biome was not as spectacular, but it was pleasant to stroll among the olive trees and such.

There were also art displays and demonstrations of things like hydroponic gardening.
As I left Eden, I passed through the gift shop (you can't avoid it.) I looked around, but didn't see anything I wanted. I noticed, however, a revolving rack with a sign on the top that said "Cornish Music."

I had a look, and there were two of my CDs! The rack had been put in place by Kesson, my Cornish distributor. It was a great kick to see my music for sale at Eden, and I wondered how many more of these racks were here and there in Cornwall. I'll have to ask.
Eventually the bus and trains took me back to Looe. By now it was mid-afternoon, so I had a Cream Tea at "Miss Marple's Tea Room." Despite the name, the scones and clotted cream were very good. I relaxed by the beach and quayside until suppertime, and stopped in a place (which shall remain nameless) for a cheeseburger. As I sat down, they told me that it would be a 40-minute wait for food. They told the couple that sat down after me it would be an hour. I ordered a Foster's Lager and settled in to wait for my cheeseburger, but it came in 15 minutes. I had another Foster's to celebrate, but the burger was terrible.
Thinking that to visit the Jolly Sailor and have a couple of pints of Doom Bar might be too much for my digestion at that point (and on top of that burger,) I went back to the B and B to read for a while and go to bed.
Today, the beach! The weather looked good, some clouds but mostly sunny. I had breakfast (a good one) at the Tasty Corner. The beach in East Looe is the bigger, and the West Looe beach had been having some sewage problems lately. I went to the East Looe beach.

The beach backs up to a stone wall, atop which is the area of town with the most t-shirt shops, etc. The lifeboat station is there as well. The Banjo Pier marks the western edge of the beach. Also at the back of the beach are concrete steps, large enough for sunning oneself on. I'm not much for sunning. I burn easily, and don't get tan. I sat on the steps to get oriented. I'm not a frequent beachgoer and so between that and being a foreigner, I wanted to get the lay of the land and observe the mores before making myself too conspicuous. I had bought and was wearing a new pair of swim trunks for the trip, and, in that I seldom even wear shorts, I already felt odd.
On Cornish beaches one is not, I believe, likely to find anyone (over the age of 2) wearing less than might be thought seemly. So it proved. (Was I relieved or disappointed?) For the most part, I might have been on a beach in Wisconsin. The differences, of course, start with the water. Salt.
Also much more of it, in that Looe faces out toward the Channel and the Atlantic. Sometimes you see cruise ships and freighters in the distance. There are waves.
Many families bring little beach fences to stick in the sand. I suppose they cut down on the wind, and provide a bit of privacy as well as helping to define your territory. There seemed to be, at times, organized games and activities (Tug-O-War, for example) and there were some small amusement rides and apparatus.
After looking around for a bit, I decided to do some what I believe is referred to over there as "paddling." I seem to remember calling it "wading." I walked over a lot of sand (the tide was out) until my feet got wet. I wore beach shoes, as I didn't know what the bottom might be like. The water was fairly cold, so it took me a while to get knee-deep. That's as far in as I went. Being a Midwesterner, I'm unused to oceans and the protocols of swimming in them.
I enjoyed that for a while, walking up and down the shallows, letting the waves break on my legs. Nobody took much notice of me, so I must have blended in fairly well. Eventually I walked back up the sand to the wall at the town end of the beach, found a spot, and sat and leaned back to watch the British At Play (being careful to put a towel over my legs to avoid sunburn.)
I think that I heard just about every possible variety of English accent on the beach that day. And no Cornish. One problem with being in Cornwall in a tourist town like Looe (in the tourist season) is that it is full of tourists who, by definition, come from elsewhere. I spent my first week in Cornwall mostly surrounded by English people. Nothing wrong with English people as a rule, but I wanted to encounter more Cornish folks. Fortunately, in the second week in Looe, I would.
For readers who don't quite get that last paragraph, I will point out (as briefly as I am able) that Cornwall, no matter the opinion of the current English Government, isn't really part of England. It's as separate a nation as are Scotland and Wales, who also occupy the Island of Britain with England. Cornwall is a Celtic land, with a very different culture, ethnic make up and even language (and accent) from England.
After a while, I began to bet concerned about sunburn. I didn't want to spend the following week in pain, so I left the beach and got some Fish and Chips for lunch.
The beach having been my big adventure for the day, I spent the rest of the afternoon doing laundry and reading (and practicing.) I had an early supper at a small place in East Looe called Papa Nino. Very good lasagna. Not of the "Lasagna and Chips" sort you (unfortunately) find so often over there. Also good minestrone. I took a walk and got an ice cream cone after supper, then spent some time (two pints of Doom Bar's worth) in the Jolly sailor before heading back to the B and B for the night.
On the way back to the B and B, I thought I heard fireworks (of the 4th of July sort) but didn't see any. I'll have to look up and find out whether August 30th is a particular holiday in that part of Britain. Somewhere in town there was a group of girls singing loudly, and their voices carried over the river and serenaded me as I walked up the long hill. I finished "Deathly Hallows" that night.
At a bit of a loose end today. I had nothing planned. I had been thinking of going to a Cornish Pirates rugby game, but the transportation didn't pan out. Too bad, too, I wanted to get a team cap or scarf or something to wear at home. I could order such on-line, but it hardly seems right, having never been to a game (sorry – a "match.")

Breakfast (good) at Café Fleur. I walked over to where Dehwelans was being set up.

The main events on the Dehwelans grounds were to be in "Marquees" (tents) near the Millpool. The Millpool is a pond, formerly natural (with a mill involved somehow) but now built up and enclosed in a park (and car park. No mill anymore.) When the tide is in,

the Looe estuary fills and backs up into the East Looe and West Looe rivers, which join at the Millpool. When the tide goes out, the pool retains a lot of water, which gradually drains out, not quite emptying before the tide comes in and fills it again.

The original (Cornish language) name of the whole area is "Logh," meaning, as in other Celtic languages, "Lake." The lake referred to is the Millpool, smallish though it is.
I'll avoid lengthy commentary pointing out the changing of the name "Logh" to "Looe" by the English to suit their convenience as an example of cultural colonialism and linguistic genocide. But who's bitter?
There was nothing going on at the Dehwelans grounds right then, so I walked on. I had lunch, but to avoid an action for slander, I'll just say that, in your choice of open-air cafes in Looe, trust your eyes and instincts. I wish I had, that day. I've got to stop ordering cheeseburgers in Britain.
My B and B hostess (Frances Hilton – a gracious and pleasant lady, and a good cook as well.

When in Looe, be sure to stay at the Pencarrow Bed and Breakfast! Centrally located, tastefully appointed, featuring the best of local produce in the tasty and bountiful breakfasts provided!) had mentioned an area of West Looe called "The Downs" as a

pleasant place to walk and see scenic views. She was right. I walked up to the Downs (Note the absurdity – "Up" to the "Downs") and found a large, grassy area that was high enough to afford some very nice views of the town and the bay. I walked through the town cemetery on the way back. No relatives.
Back at the B and B, I napped a bit, a bit longer than I intended, actually, and it was 7 pm before I got to supper (how Midwestern of me to think of 7 PM as a bit late to be having supper!)
I ate at the Harbour Moon, and had a very good meal. First, a large bowl of pea soup, followed by what was basically "Bangers and Mash," although served more elegantly, with an onion gravy. Very good, and not too expensive, by comparison to some other places where I'd eaten lately. The Harbour Moon is in West Looe, and most of the other places where I'd eaten had been in East Looe. Therein lay the difference?
Since I was already in West Looe, it was only right to stop in the Jolly Sailor. I decided to try another of the local ales for a change, with good result, but Doom Bar remains my favorite.
Vignette- Several local commercial fishermen were in the pub, their fishing (successful) having kept them on the water later than they expected. They all decided to order Chinese food from a local Takeaway in East Looe, and to hear lengthy negotiation over, and the phoning-in of a delivery order for, Chinese Food in thick Cornish accents made me wish that I had been carrying a small tape recorder in my pocket. (Note to self – "Why the &@&$%# WEREN'T you carrying one, idiot?!?!?!?!?")
Oh, well – back to the B and B and bed.
Today Dehwelans started, at least some of the "early-bird" activities. Early-bird with a vengeance. I got up at 5:30 AM!
At 7 AM, there was to be a tour of the local fish market on Buller's Quay, East Looe. It's not a place where you go to buy fish for tonight's supper, but where local commercial fishermen auction last night's catch wholesale to buyers from local distributors, retailers and restaurants.
Before that, however, I had been asked to do a short interview and a bit of music for local radio. They would broadcast it live from right on the East Looe wharf side. The interviewer (name forgotten, great Cornish accent) arrived and we set up what would go down. I was to answer some questions, and then start singing (with guitar) "Where's Cousin Jack." Then, by way of fade-out, he would wave me off, whereupon I would continue singing as I moved away.
It went OK, and after he asked me to do the whole song into his recorder. I understand they played it later that day. Several people told me they had heard it and liked it.

That over, I joined the tour. The fish market is about the size of a 10-car garage, with garage doors all along both long sides. On the concrete floor were flat plastic bins full of ice and fish. Buyers, mostly men, with one boy who looked about 13, all in white coats,

stood looking at the fish that were being auctioned at the moment, each buyer holding a small box that looked like a TV remote control. These were wireless buttons that they could press in lieu of an "open outcry" sort of bidding process. The buttons activated a

rolling scoreboard-looking thing that had on it in lights the name of the boat, and the type of fish being sold. Also the bids. Highest bidder won. A local man showed us the different types of fish on sale, and explained more about the process. It's nice that Looe still has an active fish industry, small though it must be.
The tour included a breakfast at the Sail Loft restaurant. The breakfast was good, and the place looked pleasant, but I wouldn't want to review it on the basis of one breakfast. I'm sure it's very good.

The main Dehwelans activity of the day was a coach tour to Polperro, a very old and historic fishing town. The bus parked at the top of the town, and we were met by some local notables in costume. Rather whimsical costume at that. One lady was the former mayor of the town who was standing in for the current mayor, presumably busy with something. She was accompanied by two men with sticks that had jingle-bells down the sides. These were the men whose job it was, every year, at an appointed time, to accompany the mayor to every pub in town and sample the beer to make sure it was of high quality. Nice work if you can get it.


We had a good look at Polperro, harbor, museum, nice old buildings etc. Sue Pellowe (friend from home) had arrived, and was on the tour, so we had a chance to catch up. Her presence reminds me of two Methodist things in town. One was a very nice Methodist
Chapel, still very much in use, with a fine organ.

Another was a small second-story window in a very old, whitewashed stone building on a small square, through which it is said that John Wesley once preached.
The weather was a bit raw, so we were glad to be given some lunch at what probably was a former pub, now a restaurant. Good food, but a bit posh.
Back in Looe (East) I went over to the "Rose Garden." Blow off the mental image you just conjured up. No roses in evidence. It's just a small paved area next to the Guildhall, surrounded by the tourist office, a tapas restaurant, and the street. Nice, though. While there, I and an American lady got recruited to do something for local TV (taped.) They shot us walking up the street, stopping, and looking into a shop window, pretending to chat the whole time. Then they took us over to the wharf and did short on-camera interviews.
Back at the Rose Garden, there were set up a couple of small marquees where a couple of Cornish societies were selling books and other materials. Ann Trevenen-Jenkin (old friend and former Grand Bard) was running one, and we had a chance to talk a bit. I re-met Sue there, and she asked me up for coffee. She and four others had rented a flat right in town, nearby.
We went up and chatted, and her flat-mates returned; an Australian couple and some friends of Sue's from London, who had Cornish roots. We talked for a while and then decided to have a pasty supper right there, as we didn't feel like eating out. I was grateful to be invited. It was very pleasant to be among friends sharing a meal.
After supper I went up into the council chamber in the Guildhall (old, but even at the time it was built it would have been described as "Faux-Medieval.") There was a concert with Mike O'Connor (Irish name, but Cornish to the bone) and Heather Dale. More about

Heather later, except to say that she was wonderful and lovely as always. Mike did a great combination of music (he's a master-fiddler) and storytelling of Tristan and Isolde, with the help of a harpist.
Somewhere along the line that evening, Tom (my brother) had arrived. He was over for Dehwelans and a bit of vacation on his own. He was also to be staying at the Pencarrow, but we had made no specific arrangements to meet when he arrived. Of course, I didn't let the creeping sense of guilt that I felt as the evening progressed interfere with my enjoyment of the concert.
After the concert, I walked back to the B and B, met up with Tom, chatted and went to bed.
Up at 8 today, a more decent hour. The Dehwelans trip for today was a train ride up the Tamar valley. On the way to the bus (which we would take to the train), I dropped off a box of CDs to be sold at Dehwelans events. I would chase those CDs around for the rest of the week. Sold some, though.
We boarded the bus in Looe, and started off for Plymouth, where we were to board a train to go up to Calstock, a town up the Tamar valley. That part of Cornwall is very hilly, going up and down into and out of river valleys. It was soon obvious that our bus was having problems. We slowed down going uphill (much to the chagrin of following drivers on those narrow roads,) and we would see and smell smoke from under the bus. I, no mechanic, guessed clutch. Unfortunately, I was right.

On a stretch of wider (2-lane) road a few miles from Plymouth, we had to pull off. We got out, and waited for the replacement bus, with those in charge making many cell phone calls to figure out plans "B" and "C."
Our replacement bus couldn't get us to Plymouth in time to get the train there, so we headed for

the next stop along the line, It was a small stop, and I'm guessing that our busload represented about the number of passengers who get on there in a year. When the train pulled up, the Guard looked at us goggle-eyed, and asked if we were sure we all had tickets. On the train was the man (an old railroad man) who was to be our tour guide. We were scattered throughout the car, so he couldn't do his lecture. Tom and I were sitting just behind his wife, who told us many interesting facts about the area, including childhood memories of preparations and practice for the D-Day invasion that took place in those valleys.

Calstock was very interesting, with a huge old (still in use) railroad viaduct. Calstock had been a smelting and goods-transfer town, taking metals and goods that had arrived by rail and putting then on ships, and switching goods from ships to trains. We had lunch there, a

finger-food buffet with many unidentifiable but tasty things. A string group called "Under the Fingers" serenaded us.

They took us to the local church – a nice old Anglican one, but of more interest was a talk, out in the churchyard, by a young archaeologist about the recent discovery of an old Roman fort right under where we were standing. Nothing to see except a low bank, but very interesting. It is, I believe the farthest-west Roman fort found so far, forcing a

revision in theories about Roman presence in the west of Britain.

After a short visit to Cothele Quay to see some lime kilns
and an old ore lugger, we drove up Kit Hill. It was very windy, but the views on all sides were beautiful. Kit Hill is much taller than any of the surrounding country, and one can

see for miles in all directions. I was reminded of my lyric:

"There's a hill that stands so tall, from its top you can see it all, from the Tamar to Land's End, or so at least you can pretend."

There was a rainbow.
Back in Looe, Tom and I had supper at the Golden Guinea. Good food. I had a curry that was just right (meaning very hot.)
I was booked to play at the Mayor's Reception at the Guildhall, so I got into the kilt and took my guitar up there. Trouble was, there was a harpist already playing who was booked and paid until 8:45. By then, everybody was gone. Tom and I helped her get her harp downstairs and into her car.
It had been a long day, so back to the B and B and bed.

Up at 8 again. I was booked into the Rose Garden for some busking, but the time was not specified. I got there about 10, with the weather sunny but looking as if it might change. I saw that some of my CDs were already on sale at Ann's booth, and I hunted down and located the rest in a small office nearby. At least I knew where they were.
I played from 11 AM to 1 PM, and got rained on twice. Sold no CDs, but a very shy little boy put a 50 P coin in my case. I thanked him very much. For lunch I went up the street and got a pasty (not at Sarah's, unfortunately.) The waitress was cute, though. She was, at most, 8 years old. The daughter, I think of the family that ran the place. She did very well, even counting out the change. In the afternoon, back in the Guildhall council chamber, Mike O'Connor gave a lecture on early Cornish music. Very interesting, but the genealogists at their table along the side of the room kept muttering throughout. God forbid that their ancestors should wait another hour to be discovered.
In the evening was an event in the main marquee at the Millpool called "Doz Lowen" which I believe means something like "happy evening." They were roasting a pig, and had some good pork sandwiches. There was local ale as well. And music.
The first band was a young local dance band, who played tradition-based dance music very loudly. Many people danced.

After them came Dalla. Dalla are a particular favorite of mine, also playing traditional and updated Cornish music, but with great artistry and taste. Many people danced.
I was gratified when 3 of the 4 members of Dalla came up to me before the show to say hello. Here I was eagerly anticipating seeing them and wondering if I should introduce myself and if they would remember me, and they came up to me. Huge kick. They played for 2 hours and were great. I swapped CDs with them, and got an idea for something to do on my next CD (a traditional piece, so it's not theft.)
To bed at about 11:30 – need to rest up for tomorrow's field trip.
The trip for today started at 9:17 AM, getting on the train for Liskeard. At the Liskeard station, we were met by the mayor and town crier. It's funny, I can't remember how we got into town from the station – there must have been a bus or something.

The first stop was to the Stuart House, a large, old town house where Charles I once stayed. Very nice restoration, with lots of Civil War history.

Next we went to their local museum. Many interesting displays, but nothing sticks out. I bought a Mining Heritage Site pin.

We split into smaller groups to have a look around town. Rain was threatening. Our group walked up to the church - a fairly large one, which we couldn't go into. No arrangements had been made. We walked about the churchyard and saw, on the outside, a

small window through which lepers used to be served communion. As we started back, it started to rain – hard. We clustered under a covered gateway at the edge of the churchyard and got told about some more local history. Eventually we realized that the rain might not let up, so we walked about 3 blocks back to the museum and got soaked.

They gave is lunch at the town hall, in a room that closely resembled a rather old high school gym. As we entered, I realized that the lady who was acting as "coat-check girl" was the mayor.
We were next taken to a small chapel in the middle of a graveyard. This was the "dissenters'" chapel and graveyard, used by Methodists and others for funerals and burials. It was a bit wet to go looking for dead relatives.

Then we went to Minions, or at least the area nearby where the Cheesewring is. This is a natural stone formation that looks like several large flat rocks had been stacked up, but was actually one weathered rock.

I'm not sure exactly how big it is (taller than a person) as we viewed it from a distance across the old granite quarry.

This was all at a pretty high elevation, and one could see in the distance several old mines
and ruined mine buildings.

A lot of the ground had been scooped out at the surface by tin "streaming," the old-fashioned way of extracting tin ore by water from surface rock and soil.

Great views, with Kit Hill in the distance.
Back in Looe, Tom and I had fish and chips for supper, then back to the B and B to rest. In the evening was a performance by Cornish Songwriters (headed by Mike O'Connor) of their latest show "Cornish Lads." It's based around Roger Bryant's song of the same name. Roger is a member of the group.
Basically they (6 local singer-songwriters) pick a Cornish theme, and write songs about it. Then they weave the songs into a sort of staged "Readers Theatre" production. Some people don't quite get what they're up to; expecting a fully-staged Theatre piece, but it's really an effective way of presenting the material and ideas. They were all very good, and I enjoyed it. I got a chance to chat briefly with Roger Bryant, who had let me record his "Song for Crofty" on my latest CD.
After that- B and B and bed.
Didn't do much during the day. After breakfast I went into town and to a Dehwelans visitors' coffee at the Masonic Hall. I mostly talked with a fellow from Australia about Australian and American humor, and our different reactions to British comedy. After, I walked by the river and noticed that it was running very brown. Maybe the rain had caused a lot of run-off from upstream. There was a bit of rain, but not all day.
After that I mostly souvenir-shopped in East Looe. I had a pasty from Sarah's for lunch, and later a cream tea at Café Fleur. I didn't figure I'd want much supper, and, as I was to perform later, I didn't want to eat too much before. Back the B and B for rest and practice. And to get the kilt on.
The evening "Gala" was held in the main marquee at the Millpool. There were to be several acts, both local and otherwise, including me, Heather Dale, some local kids in a theatrical piece, and Will Coleman, the wonderful Cornish storyteller.
Well – wouldn't you know – just before the show started, they announced that Will Coleman's teenage daughter had just been rushed to the hospital and Will wouldn't be able to be there. "And now – Enjoy the show!" (The daughter turned out to be OK.)
The first act was a local singer-songwriter, playing acoustic guitar and singing. Complete with t-shirt, stubble, a complete lack of stage presence and absolute unintelligibility. I don't remember the exact order, but Heather Dale came on after a while. Heather is one of my favorites. She's from near Toronto, and plays piano (and other things) and sings. Her earlier songs are largely based on the King Arthur legends, and she has since branched out with many more sorts of original and traditional songs.
She is loaded with talent, is outrageously good-looking, and is a marvelous performer. It's too bad that she is also extremely nice, or I could enjoy hating her for being so wonderful. As it is, I like her a great deal, and admire her abilities. If you ever get a chance to see her, don't miss it!
When I was introduced, the MC read a short bio I had written which included a mention of how my song "This Isn't England" had become something of a hit with the Cornish Independence Movement. The MC sort of sniffed at that and said: "Well - they haven't burned down my house yet." Jerk.
My stuff went down OK. I did "Mushy Peas," which is a crowd-pleaser. I also did "Cornwall Once Again," but the only one who mentioned it to me after was Heather. Bless her heart. Ann Trevenen-Jenkin and Bert Biscoe, two of the people who I most wanted to hear it, came in after I was done.
Again, by the time that was all over, it was late, so bedtime.
Today was the Gorseth. Between one thing and another, it took up most of the day. The Gorseth is both the name of an organization and an event. The organization; the Cornish Gorseth, or "Gorseth Kernow" in Cornish, is dedicated to the preservation, revival and advancement of the Cornish language and culture. The members (I'm one) are called Bards and are members by invitation. One is nominated and accepted based on some sort of service to the purposes of the Gorseth.
The event is an annual ceremony in which as many Bards as can make it (usually a couple of hundred) meet and, in blue robes and with banners flying, meet in a circle to hear speeches, see the awarding of prizes and renew their dedication to the Cornish cause.
This year's Gorseth ceremony was at Looe, at the end of Dehwelans. It was the first time that I'd attended a full Gorseth ceremony, having only been to somewhat lesser events in the past.
Frances (my hostess) drove me up to where the Gorseth was held. It was to be in some playing fields near a school (it's always held outdoors if possible.)
We robed up and were taken by small buses down to East Looe, to pose for pictures near the Guildhall. Then back to the school.
There was a bit of a wait after that before the ceremony started, but there were plenty of fellow-bards to talk with. The weather looked iffy, but the decision was made to go ahead with the outdoor location, rather than moving it into the school gym.

Outside the school, we formed up and

processed about a quarter-mile to the fields. The location was on high ground, and the views were beautiful, up the coast and out to Rame head.

I was lucky enough to be sitting on the side of the circle with the good view.

The ceremony involves the Bards and officials processing into a large circle with a dais at one side for speeches, etc.

The Gorseths of Wales and Brittany sent delegates, and it was nice to see them in their robes and with their flags.

Part of the ceremony is the entrance of the "Lady of Cornwall,"

preceded by young girls performing a traditional dance.

The lady of Cornwall presents a bouquet to the Grand Bard.

After that follows much verbiage, all in Cornish, with responses from the Bards. A list of Bards deceased in the last year is read off, and then prizes are handed out to winners of various contests involving language, literature, music, etc.

About this time it rained for about 5 minutes, but no one took any notice.

New Bards are admitted at the Gorseth, and a friend of mine, Flora "Tommy" O'Hagen, was admitted this time. Tom took some great pictures (these) of the proceedings.

My favorite bit is where a sword, representing Arthur's sword Excalibur, is held up on the dais, and the bards closest to it put their hands on it. Then the next closest Bards (we were all clustered together at this point) put their hands on the shoulders of the Bards in front, and so on, until everyone is linked to those touching the sword. Then we are all asked to renew our allegiance to Cornwall, on Arthur's Sword. Very moving.
We then processed back to the school, and waited for the evening concert to start. Actually there was a tea first, and a "propur" Cornish tea at that. It involved pasties. 'nuff said.
The concert involved the usual mix of amateur musical groups and theatricals, some very good especially the male voice choir. The "Compeer" told a lot of very good Cornish jokes of which I only remember one:
"One evening in Wadebridge, the fire alarm sounded. A three-story building in town was ablaze. The volunteer firemen were soon on the scene, and one brave smokeater ran up a ladder to the roof to douse the fire from above. In doing so, his helmet fell off. He carried on anyway. Down on the street, among the crowd who had gathered, were three young men from the West Indies who were visiting Cornwall. One of them saw the helmet on the ground and decided to take it up to the fireman on the roof.
The only way he could safely carry it up was to put it on his head. The next thing that the fireman on the roof knew, a head poked up, topped with a fireman's helmet, but the face wasn't familiar, and was obviously not a Cornish face. The fireman said; ''ere – where're you from?' The helpful young man said 'Kingston, Jamaica!' The fireman stared a second and said 'Oi - that were quick! Bodmin ain't 'ere yet!'"
You hadda be there, I guess.
After, Tom and I walked (in the dark) a long, sloping, tunnel-like path back into town. There had been a rock concert at the Millpool, which was still going on. We could hear the bands most of the way back, and I could hear them from my window at the top of the B and B. Again, the music seemed very loud versions of Celtic-style music. For what seemed like an hour, I could hear the bass part and drums of what seemed to be "What Shall We Do With the Drunken Sailor?"
To bed for the last time in Cornwall (this trip!)
Sunday 9/7/2008 and Monday 9/8/1008

I'm running these two days together, because that's how it was in real life. In the morning (Sunday) I went back to the Rose Garden to gather up my CDs. Some had sold, which was nice.
The next event was to be the "Diaspora Forum" (to be held in the Council Chamber in the Guildhall,) a discussion among people from all of the Cornish emigration destinations concerning the various problems and joys of being Cornish in America, Canada, Australia, etc. I was booked and billed to play, and had prepared several things specially.

Well – of course – It didn't work out. My friend Bert Biscoe was the host, and, because no one had actually put together anything resembling the Forum, brought on three speakers (all very interesting) instead. I don't think that I was the only one who was disappointed, but nobody took it out on Bert or the speakers.
I did have a word with him, as my name had been specifically placed on this event in all of the schedules, etc. and he did not call on me to do my bit. I got on later, however, elsewhere.

Back on the street, there was a short "parade" with music and dignities, which wound up on the seafront where

the music continued for some time.

In the evening there was to be a Dinner at the local sailing club, and I was asked, by way of making up for being passed over at the "forum," to play there, to which I agreed. I found the Sailing club in the afternoon, and walked back from there to the B and B to see how long it would take. This was important as after the Dinner, I would need to get back to the Pencarrow to catch a taxi (prearranged) to Liskeard in order to board the bus for Heathrow.

At the B and B I got my guitar, and headed back to the sailing Club. The event was to be upstairs, so I went up into a pub-like room with a bar at one side, and a living-room-like area with couches and chairs at the other. I saw tables with finger-food, and figured that this must be where we would eat appetizers before going in to dinner.
Nope – that was it. The food was good, but to call a cold buffet a "Dinner" seemed very strange. Nonetheless the place got crowded, and there were final thank-you and farewell speeches before I went on. It was a bit like playing at an old-time folk coffeehouse, with couches and people sitting on the floor. It went well, I think.

We walked back to the B and B, I finished packing, and the cab came. I said goodbye to Frances and Tom (who was staying on in Britain for another week) and set out through the night to Liskeard.
The cab dropped me in Liskeard at a bus stop, but not the same one I had been dropped at two weeks before when arriving. I spent some nervous time wondering if I was at the right stop before I noticed a small schedule board that mentioned my bus. It was a warm night, and the doors and windows of the "Local" were wide open, letting out the sounds of very loud karaoke. That, plus the young couple having the classic "Flaming Row" just up the street made for a less-than-tranquil wait. It was about 11 PM, and the bus would travel overnight to the Heathrow bus terminal, getting there about 6 AM.
The bus came and, after a few stops, was full. It was very cramped, so I had to sort of double up to try to even doze, which I didn't do much of. The driver and the (I suppose) Guard were of the typical sort of "Always On The Low Boil" angry British bus driver that I've come to expect. The fact that the bus developed an electrical fault didn't help. We had to change buses at Bristol Airport, with a 30 minute wait, at about 3 AM. I had an 11:10 AM flight, so I wasn't worried.
We finally got to Heathrow, and I (with my now even heavier big suitcase, guitar and carry-on) found the baggage check-in. (No luggage surcharge! Fly Virgin Atlantic!) I had breakfast on the departures concourse (not nearly as good as Frances',) changed my money back to Dollars, and waited.
It was a good flight home. As we were still boarding, the couple and their baby in front of me (by the bulkhead, 2 seats across) were relocated to a place better for the baby, and I asked if I could move into their seats. So I had an empty seat beside me, and plenty of legroom.
At mealtime, the cart from the next class up was pulled back through the curtains, and I was given a much better meal than I had any right to expect. They had extra.
I had bought a book at the airport (The Death of Dalziel by Reginald Hill) and was reading it

when I saw on the flight map that we were approaching Greenland, rather closely. I looked out and actually saw it! Glaciers, mountains, bays and icebergs! I took pictures. I finished the book as we were landing at O'Hare.
The flight arrived on time, and there was no more than the usual mob scene in the O'Hare International Terminal. Lissa picked me up, after I confused things by coming out of the wrong door.
I had parked my car at Tom's on the way out, so Lissa took me there, and I transferred my luggage to my car, and headed for home. On the way (in the rain) I stopped at the Post Office to pick up my mail, and at the Jewel to pick up a frozen lasagna.
I got home and ate it.
The End