Pysk, Cober ha Sten
"Pysk, Cober ha Sten" ( Fish, Copper and Tin) is an old Cornish toast. I'll use it to salute the many friends I have made through Cornish music. Here's to you! If the Cornish music community is like the Solar System, I guess I'm Pluto—way out in the distance, not very bright, and maybe not even a planet at all. Still, I've been made to feel that I'm part of it.
Here in the USA, there was recently a get-together of the entire North American Cornish Music Community. It took place on a park bench in Mineral Point, Wisconsin, occupied by me and Marion Howard. There are some performers here that include a bit of Cornish music in their Celtic sets, and many folks who sing Cornish songs at Society meetings and get-togethers, but Marion and I are the only two performers (that I know of) who do Cornish-themed music exclusively. If there are others, please get in touch. Contrast that with, for example, the Irish Music community here in North America. There are hundreds of them right here in Chicago. Maybe that will explain why I get a bit wistful for the old country and tend to be a bit clingy with my friends and colleagues "over there."
Again—Here's to you all, here and there, now and then (see last CD.) Raise a glass of Doom Bar for me. Pysk, Cober ha Sten.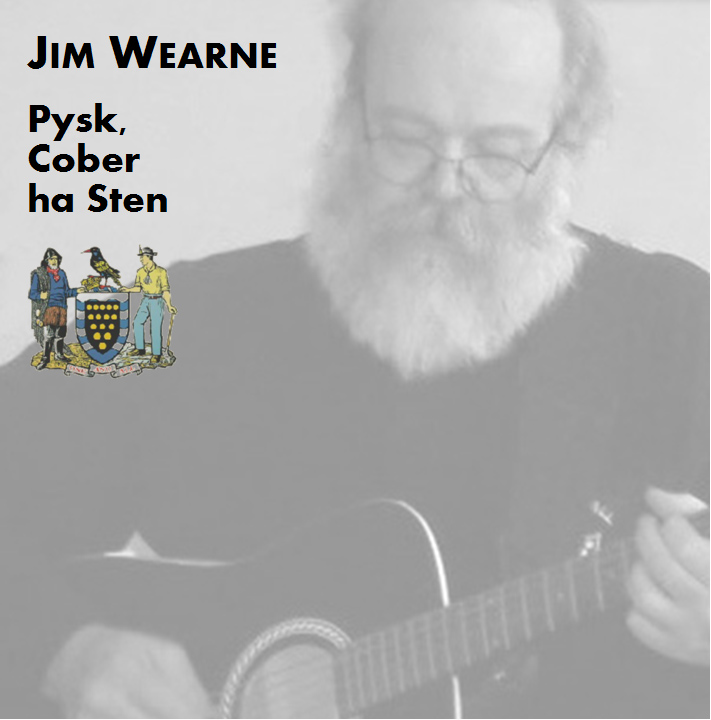 The Tracks
Pysk, Cober ha Sten-
An old Cornish toast, meaning "Fish, Copper and Tin." I wanted to find and sing a Cornish drinking song, but, finding none, I made one up. I asked for help from some of my Cornish musician friends, and got a lot of verses. I used some in the song, and all of them can be seen here in their original form. To my contributors, sorry about the editing, but thanks very much for the verses!

The Looe Valley Line-
Everybody loves a great Railroad Song and maybe someday I'll write one. Meantime, here's this one, complete with theft from The Wabash Canonball. I should subtitle this "The Great Train Robbery."

Swear Upon the Sword-
Mozart (another guy who wrote tunes) got in trouble with the Freemasons for putting their secrets into an opera. (Do you know which one? I do!) Maybe I'll get in trouble with the Gorseth for portraying our ceremonies in Rock and Roll.

Three Knights-
Another of my "Trad/Wearnes." An old Cornish tune, done in a medieval-mideastern sort of way which will annoy many. The tune actually works, give it a chance. The words are my own, based, of course, on a traditional model, and are another take on the "slighted brother kills sister" theme, which seems to have been the original gist of the song.

The First Nowell-
This is usually listed as an "English Carol." Hogwash. It was collected and edited by Davies Gilbert, who changed his surname from Giddy (a Cornish name) to inherit a fortune. He was from Penzance, and collected the song there. He was also High Sheriff of Cornwall, and an MP from both Helston and Bodmin. But the world still thinks of this as an "English" carol. Thanks to Prof. William Studwell for doing all of the hard work on the research!

The Universal Game-
There may be a bit of a subtext in this CD about claiming things back for the Cornish. This is one is about how just about any football-like game can be traced back to Cornish Hurling. Thanks to Colin Roberts for the research help.

Can I Come Over?-
Ostensibly a kids' song, but if any kids start singing it, their parents will put my eyes in a pasty. Yes, it's an oblique reference to the King Harry Ferry. And yes, you've heard the tune before.

Swell My Net Full-
I first heard this at the Jolly Sailor in West Looe, sung by the Miner Quay Shantymen. They and the Rum and Shrub Shantymen helped me research it. Since I first heard it in Cornwall, it's Cornish to me.

The Soldier and the Maiden-
With help from Canadian fiddler supreme Ben Deschamps and my daughter Lissa, I recorded this lovely old song. I Cornished up the words a bit. Sue me.

Mushy Peas Live-
I put a studio version of this on a previous CD. This live version has the star of the song, Harry (Safari) Glasson, singing along and playing fills. Harry's wonderful voice will be in short supply from now on, so I want to get this bit of it out there.

A Miner's Life-
I first heard this in a bar in California, sung by members, wives and friends of a Cornish male voice choir. It's actually an old Appalachian coal miner's song, based on an even older religious song. I should say something here about cycles or a song coming home, except I'm not from the Appalachians (although my mother was from West Virginia.) I'm just on old labor sympathizer and I like the tune. (Note to British listeners: that's labor, not Labour.)

The White Cross-
A familiar tune, with Revolutionary lyrics. I actually hope that this one gets out there and is sung at Mebyon Kernow rallies. My only fee would be a free life membership.

Cornwall Once Again-
An unabashedly nationalistic anthem. There are already a number of great songs celebrating Cornwall, but I wanted to throw my hat in the ring and write one. I have fantasies of this being sung at rugby matches. Or political rallies. Maybe WI meetings?

I'll Take Chicago-
Not Cornish, but, as I'm from Chicago, I figured I'd cook up an "Ode to the Big Shoulders" thing. Also if I can sell it to the City, it will help the retirement fund.
TO ORDER:
Order On Line! http://www.cdbaby.com/cd/wearnejim5
(Ideal for non-USA orders)
-or-
I'm on many on-line sources so you can purchase individual tracks, or the whole CD.
Just "Google" Jim Wearne
-or-
Please send a check for $10.00 (U.S.) plus $2.00 shipping and handling per CD.
TO:
MR. BEAR ENTERPRISES
2521 Spring St
#2906
Woodridge IL 60517
U.S.A
Back To Cornish Music Info And Links
P